Divi Image Carousel Module
Divi Image Carousel Module is the most powerful and feature-rich carousel slider module for Divi. You can create different carousel effects using any type or size of image with an image lightbox that slides inside the lightbox. So break the shackles of Divi and create a fast and smooth image carousel in no time.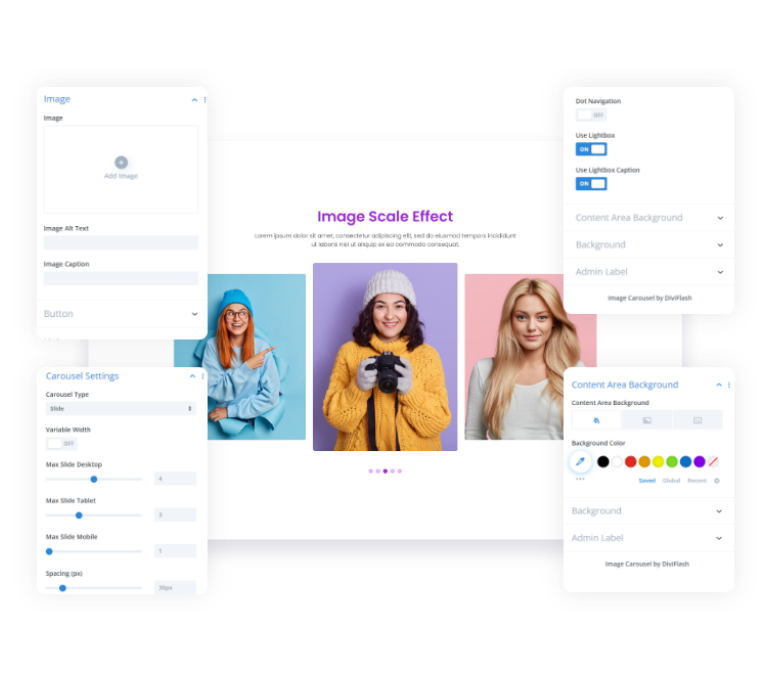 What Makes Divi Image Carousel Module Different?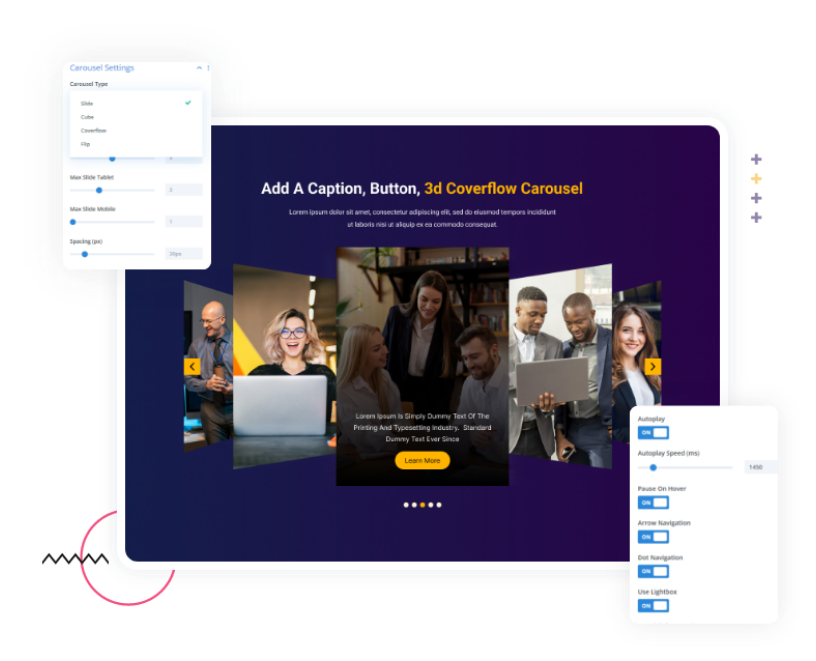 Create an Image Carousel with
Slider
Coverflow
Cube
Flip
Effect
Create a responsive and highly customizable image carousel using two attractive sliding effects. One is a Regular Slider, and the other one is a 3D-looking Coverflow. You can also make image flip and cube effects with this module. Controls like autoplay, loop, sliding speed, and center focus are available to make those effects live.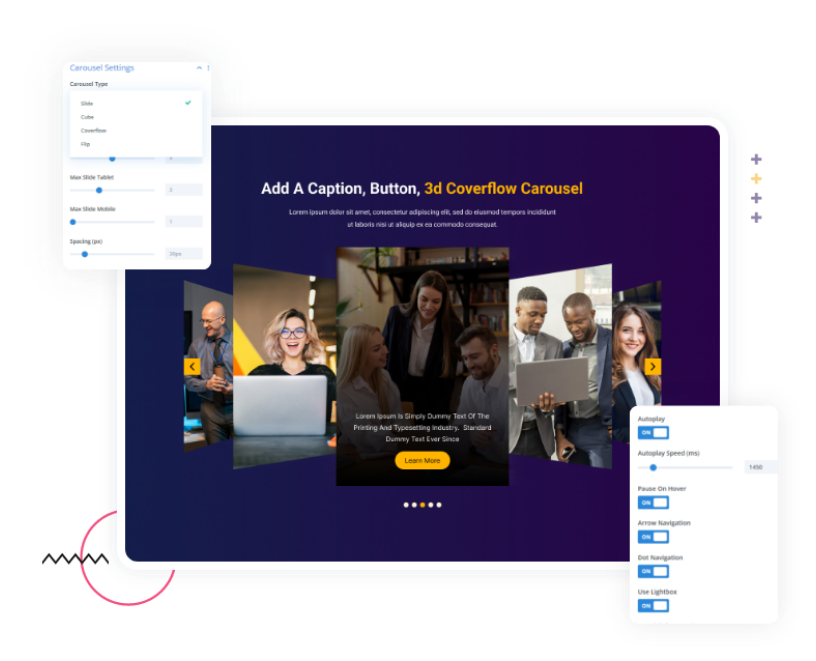 Navigation Arrow for Image Lightbox
Lightbox Slider inside a carousel is rare in Divi, but we made this happen. Make a long-lasting impression by opening your images in a lightbox with arrow navigation for a closer view one after one. Additionally, the image caption can be customized and shown inside the lightbox.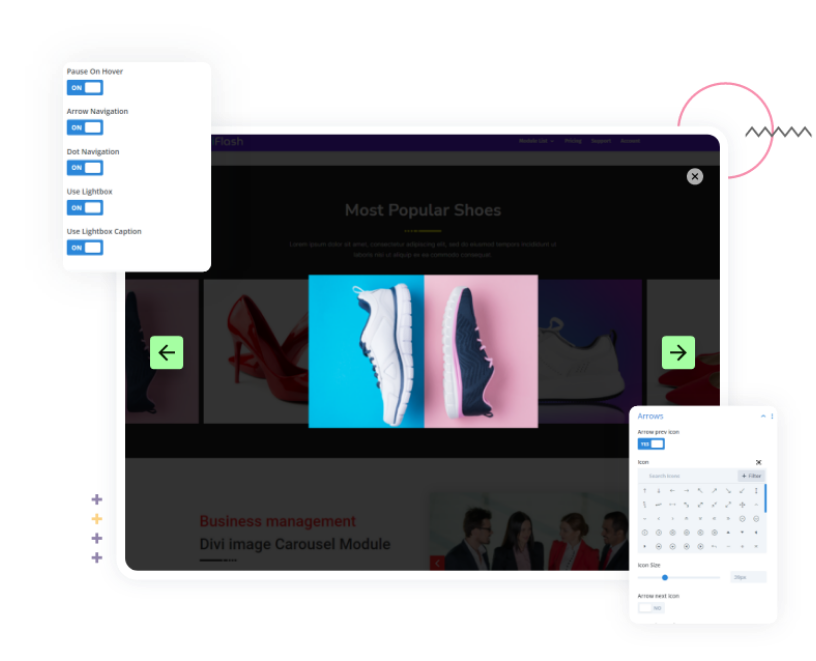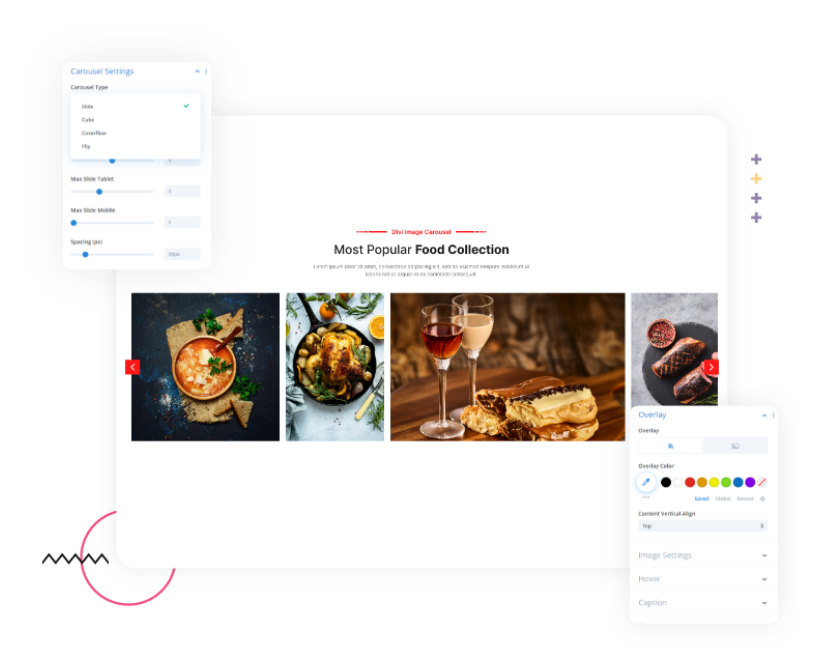 Use
P
o
r
t
r
a
i
t
L
a
n
d
s
c
a
p
e
S
q
u
a
r
e
Image on the Same Carousel
You don't need to resize images anymore. Instead, deploy our module, use portrait, landscape, and square photos, and set the image height. Besides, you can add a color overlay, caption, and button with animations, image scale effects, and much more with this single carousel module for Divi.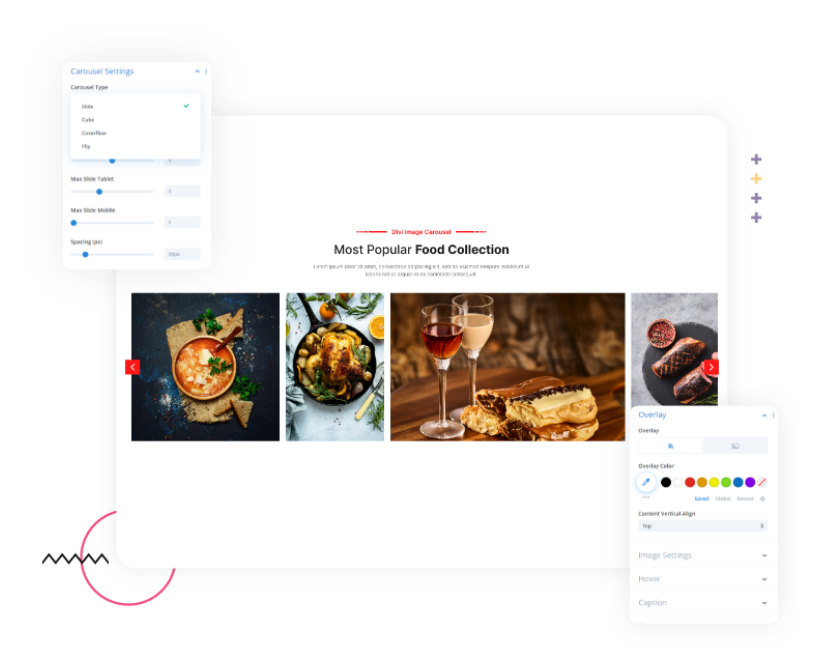 What Makes DiviFlash Image Carousel Module the Right Choice?
The DiviFlash Image Carousel has tons of innovative features that effectively showcase countless images under multiple carousel layouts.
4 carousel types: Slider, Coverflow, Cube & Flip
Rotate image slides and add shadow effect on them
Show as many images based on device type
Set a balanced gap between image slides
Start sliding from the middle of the carousel
Automatically move image sliders
Add loop effect
Stop image slider movement on hover
Stylish arrow & dots navigation
Open the image in lightbox with a caption & arrow navigation
Different background customizers for each slide
Image overlay & scale animation effect
Show any sizes of images with equal height & width
Palace image anywhere on the carousel vertically
Open image caption & button on hover mode from 9 different places
Customize the caption, button, and border of each slider differently
Comprehensive padding margin options
From Beginners to Divi Professionals, Everyone Loves DiviFlash!
They trust us, and this should give you peace of mind.


"Very pleasantly surprised"


Picked up the Divi Flash plugin and was very pleasantly surprised. It's become a staple plugin I install on just about every Divi website I build. Also, the creativity that went into building these modules is refreshing. For example, being able to change the order of things like header text and body text in the testimonial module allows you to build your testimonials to match pretty much any design. Keep up the great work!
Alex BrinkmanWeb Designer, Internet Consultant at Green Tree Media LLC

"Build an amazing site in a flash!"


Amazing modules that are well documented and easy to use. You can download prebuilt easy to customize sections to build a site skeleton quickly. The plugin does not slow down or bloat your site in any way, and I am getting 96 desktop and 80 mobile with page speed insights without optimization. The best part is the support team. They are quick to reply and provide easy-to-follow directions. I am thrilled with my purchase and highly recommend this plugin to all divi users.
Jason Abdi Information Technology Lead at Saturn Oil + Gas Inc.


"Game changer for Divi users!"


I just finished creating a new site using DiviFlash modules, and it was indeed a game-changer. It opens a whole new world of designs and functions you can use for Divi. Some of the modules are so practical that you would think that Divi should have natively had some of these. This new site I made is the best-looking and most incredible site I've built. If you use Divi, this is worth getting.
LTDlover AppSumo Plus Member


"Great features and awesome support team!"


Great features and an awesome support team!🍀🙏💚 I'm super happy with the Divi Flash, the advanced image gallery advanced was exactly what I was looking for, it saved me so much time and did the job without writing a single line of code. And for sure thank you so much for the great support team who helped me immediately to solve the issues I was having on my website, so glad I'm using your product.
Zo Alfeqar Divi Marketplace User


"My Go To Plugin for Divi, Best Among All!"


I have been using Divi for almost 3 years, from the first moment I used it I knew that it had limitations, for example the slides, carousel and tables that were very essential for me, so I searched the entire network and did not find anything, I started doing tutorials myself to help people like me. Then I met Divi Pixel, Divi Supreme, Divi Toolbox among others, ah yeah! Divi Hacks, but I never wanted to use them, I don't know if because of the price or just because I didn't like them. read more... Until I found Divi Flash, it is the best tool for me, I use it on all my websites. What I like about Divi Flash is that they added the slider, the tables and tabs, the advanced propaganda modules, the portfolio, the customizable image galleries, and now I can select which module to have and what to disable. The results that I have now had with Divi Flash are excellent work and client changes are now faster. If you are looking for a good tool in carousel, tabs and that is updated frequently, DiviFlash is the best option. read less.
Antonio MartínezFounder, Divicon
Other Divi Modules in DiviFlash Plugin
Take Your Divi Website to the Next Level with DiviFlash!
We offer a 14 Day Money Back Guarantee, so joining is Risk-Free!