Building a visually captivating and dynamic website is no longer a task limited to professional developers. With the power of WordPress theme builders, anyone, regardless of their skill level, can create stunning websites that leave a lasting impression.
While WordPress itself boasts a vast collection of themes, its customization options can be limiting. This is where a WordPress theme builder comes to the rescue. These powerful tools enable you to effortlessly design and customize every aspect of your website, from the header to the footer and everything in between.
Whether you're a beginner looking for user-friendly tools or an advanced user seeking advanced customization options, there is a WordPress theme builder out there to suit your needs.
In this article, we'll explore the best WordPress theme builders available, highlighting their features and benefits, to help you choose the perfect one for your next website project.
Let's dig in.
Best WordPress Theme Builders Comparison
| | | |
| --- | --- | --- |
| | | |
| | Powerful visual builder, extensive template library, great for all skill levels. | |
| | User-friendly, drag-and-drop builder, with unlimited templates, perfect for dynamic and visually appealing websites. | |
| | Inline text editing, content modules, seamless WooCommerce integration, customizable options. | |
| | Drag-and-drop editor, professional coming soon and login pages, polished website launch. | |
| | Visual drag-and-drop builder, flexible design modules, support for custom fields. | |
| | Convenient inline editing, a powerful theme builder, visually stunning websites, and dynamic templates. | |
| | Intuitive drag-and-drop functionality, and seamless WooCommerce integration, ideal for businesses. | |
| | Clean code, excellent performance, advanced features like conditional logic, and dynamic content support. | |
| Visual Composer Theme Builder | Drag-and-drop editor, extensive template collection, Gutenberg compatibility, customizable layouts. | |
| | Comprehensive templates, and seamless integration with JetEngine for dynamic content, valuable for developers. | |
WordPress Theme Builders vs Page Builders
Page Builders and Theme Builders have a lot in common and share many features. In fact, some plugins can be both a Page Builder and a Theme Builder, like the multitaskers they are.
But here's the key difference: A Page Builder is all about creating a unique design for a specific piece of content, like a single blog post. You drag and drop elements, play around with the layout, and make it look stunning.
On the other hand, a Theme Builder lets you create templates that automatically apply to your content. So, let's say you have a template for your blog posts. When you publish a new blog post, it automatically uses the design you've set up in the template. No need to start from scratch every time! It's like magic.
In simple terms, Page Builders are great for customizing one-off pieces of content, while Theme Builders can transform your entire website with their template powers.
But wait, there's more! Both Page Builders and Theme Builders come with handy features like drag-and-drop interfaces, pre-made templates, and design elements to make your layouts super cool.
Advantages of Using Theme Builders Over Pre-built Themes
Wondering why you would need a WordPress theme builder when there are numerous pre-built themes readily available?
Using a theme builder empowers you to create a unique and highly customized website without the need for extensive coding or design skills. It gives you the freedom to bring your vision to life and ensures that your website stands out from the crowd.
Here are some advantages of using theme builders over pre-built themes:
Customization and Flexibility: Theme builders allow you to have complete control over the design and layout of your WordPress website. You can customize every aspect, including headers, footers, page templates, colors, fonts, and more. This level of flexibility is often limited or not possible with pre-built themes.
Drag-and-Drop Functionality: Most theme builders offer a user-friendly interface with drag-and-drop functionality. This makes it easy for anyone, even without coding knowledge, to create and modify website layouts. You can simply drag elements, such as text boxes, images, sliders, and widgets, onto your page and arrange them as desired.
Time and Cost Savings: With theme builders, you can save significant time and costs compared to hiring a developer or designer to create a custom theme from scratch. The pre-designed templates and blocks provided by theme builders allow you to start with a foundation and customize it to your needs, saving you hours of design work.
Seamless Updates: When using pre-built themes, updating the theme often involves overwriting customizations and modifications made to the code. Theme builders, on the other hand, provide a separate layer for customizations, ensuring that your design remains intact when you update the theme or plugins.
Extensibility and Integration: Many theme builders offer seamless integration with popular WordPress plugins and extensions. This allows you to enhance your website's functionality and add features without compromising the design. You can integrate elements like contact forms, sliders, social media feeds, and more, all within the theme builder's framework.
Responsiveness and Mobile Optimization: With the growing importance of mobile-friendly websites, theme builders often prioritize responsive design. They provide tools and options to ensure that your website looks and functions well on different devices and screen sizes. This saves you the hassle of manual coding and testing responsiveness.
Learning Resources and Support: Theme builders usually have a large user community, providing access to extensive documentation, tutorials, and support forums. This makes it easier for users to learn and get help when needed. You can find guides, video tutorials, and community forums that offer tips, tricks, and solutions to common challenges.
Top 10 Best WordPress Theme Builders Review
1. Divi Theme Builder
Divi Theme Builder is one of the most popular WordPress plugins that combines a theme and a page builder. It's like a power couple for your website! The cool thing is, you can use it either with the Divi theme itself or with any other WordPress theme you love as a plugin.
With Divi's theme builder, you get this awesome visual interface where you can design your own headers, footers, and other theme templates; therefore, no coding skills are needed! They even have over 800 ready-to-go full-site templates, so you can get your website up and running in no time.
If you're a small business owner, you'll love how Divi makes it easy to find a pre-designed template that suits your business. It's all about saving you time and giving you a strong foundation to work with.
Divi's user-friendly drag-and-drop builder empowers you with complete control over your design, allowing you to see real-time changes from start to finish. To expand the functionalities you can take advantage of Divi extensions such as the DiviFlash plugin and unlock new creative possibilities for your website design.
Best Features of Divi Theme Builder
Visual, drag-and-drop interface
Vast templates library
40 content modules
Abundance of style/design options
Responsive controls
Conditional template display
Full site templates are known as "Theme Packs"
Dynamic content support for both native WordPress content and custom fields
Seamless integration with WooCommerce
Flexibility to use as a theme or a plugin
Access to other Divi plugins like Monarch
Import & export theme builder templates from one website to another
Pricing of Divi Theme Builder
The Divi theme builder is part of the Elegant Themes membership, offering two purchase options that provide unlimited usage on personal and client sites.
Yearly access: $89 per year
Lifetime access: $249 1-time payment
FURTHER READING: Divi Theme Review
2. Elementor Theme Builder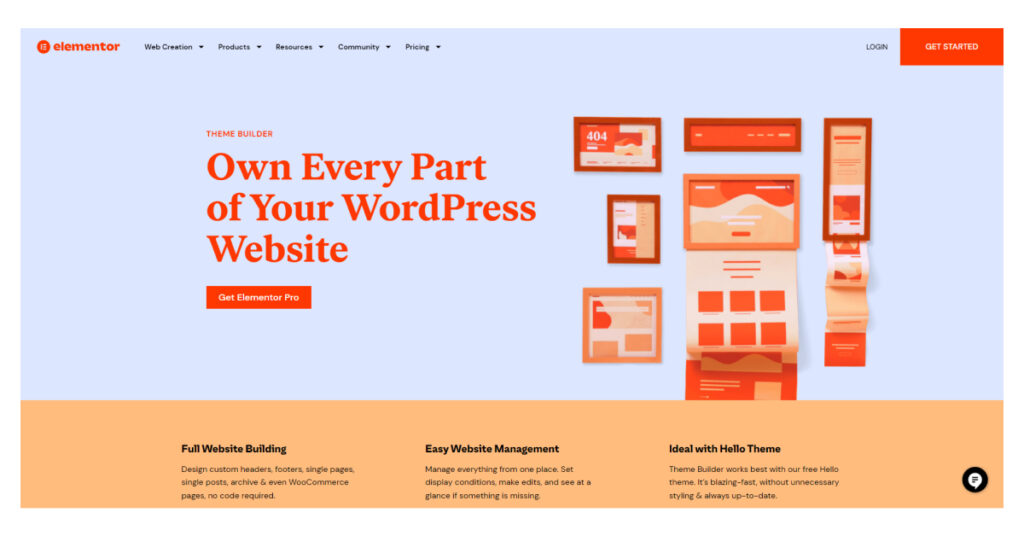 Elementor is an incredibly powerful page builder plugin for WordPress with over five million active installations. It's designed to make building and designing websites, blogs, and landing pages a breeze.,
With the Elementor Theme Builder (Which comes with the pro version), you have the ability to create and customize templates for essential parts of your theme, such as the header, footer, single posts, and archive pages. You can design these templates using the drag-and-drop functionality, making it easy to arrange elements and customize their appearance.
You can apply your custom templates conditionally throughout your site. For example, you can have a consistent design for all your blog posts, or you can create unique templates for specific categories, tags, authors, and more.
Elementor provides a speedy and user-friendly interface, making it a popular choice for both beginners and experienced developers. Its extensive design and style options give you the creative freedom to bring your vision to life on your WordPress site.
Best Features of Elementor Theme Builder
Visual, drag-and-drop builder for easy page creation
Responsive controls
Ability to create unlimited templates for your theme
Conditional template display based on specific criteria
Pre-designed templates are available for various parts of your theme
Dynamic content capabilities with dedicated widgets for core WordPress content and seamless integrations with ACF, Toolset, Pods, and Meta Box
WooCommerce integration
Popup Builder
Built-in email marketing integrations for streamlined campaigns
Works seamlessly with your existing theme or can be used to completely replace it
Pricing of Elementor Theme Builder
The core Elementor page builder plugin is free on WordPress.org. However, for theme-building features, you will need Elementor Pro, which offers three plans with different size limits.
Essential plan: $59 per year (1 Pro website)
Expert plan: $199 per year (25 Pro websites)
Agency plan: $399 per year (1000 Pro websites)
3. Thrive Theme Builder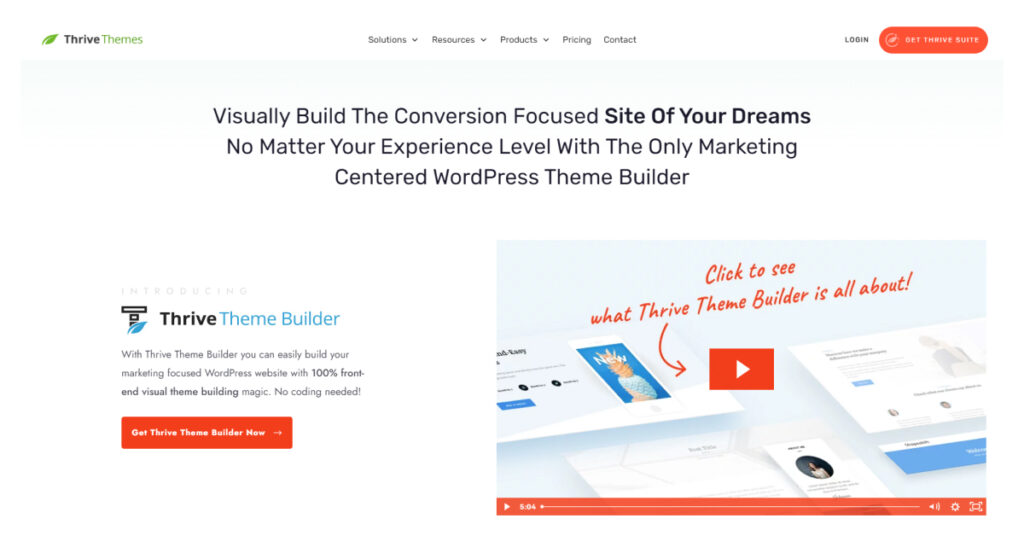 Thrive Theme Builder is another powerful drag-and-drop page builder within the Thrive Theme Suite. It functions as a WordPress theme rather than a plugin, allowing you to visually create your website's headers, footers, post templates, page layouts, and more.
One of the standout features of Thrive Theme Builder is its integration with other Thrive products, such as Thrive Leads and Thrive Architect. This seamless integration allows for a complete website building and optimization solution, streamlining your workflow and enhancing your website's performance.
With a wide range of pre-designed templates and modules, Thrive Theme Builder focuses on creating conversion-focused websites. It offers an intuitive interface for customization and integrates seamlessly with online tools like Zapier, email marketing tools, and webinar platforms.
Thrive Theme Builder utilizes a base theme called Shapeshift, which provides you with pre-designed templates to choose from. These templates help you get started quickly, ensuring a cohesive and visually appealing website. However, it also means that you won't be able to switch to a different theme if you desire a different look for your website.
Best Features of Thrive Theme Builder
Inline text editing with real-time modifications.
Content Modules for easy integration of various elements.
Access to Thrive Leads for efficient lead generation.
Template Library offers a wide range of pre-designed templates.
Seamless WooCommerce integration for enhanced e-commerce functionality.
Genuine WordPress theme, providing full theme capabilities instead of just a plugin.
Intuitive visual builder with drag-and-drop functionality.
Responsive controls ensure optimal display across different devices.
Built on the reliable Shapeshift theme for a solid foundation.
Quick setup wizard to select baseline templates and get started easily.
Extensive customization options for editing existing templates or creating new ones.
Unlimited template creation for ultimate design flexibility.
Pricing of Thrive Theme Builder
Thrive Theme Builder is available as a standalone plugin or as an integrated feature within the all-inclusive Thrive Suite.
Thrive Theme Builder: $99 per year
Thrive Theme Builder & Thrive Architect: $199 per year
Thrive Suite: $299 per year
4. SeedProd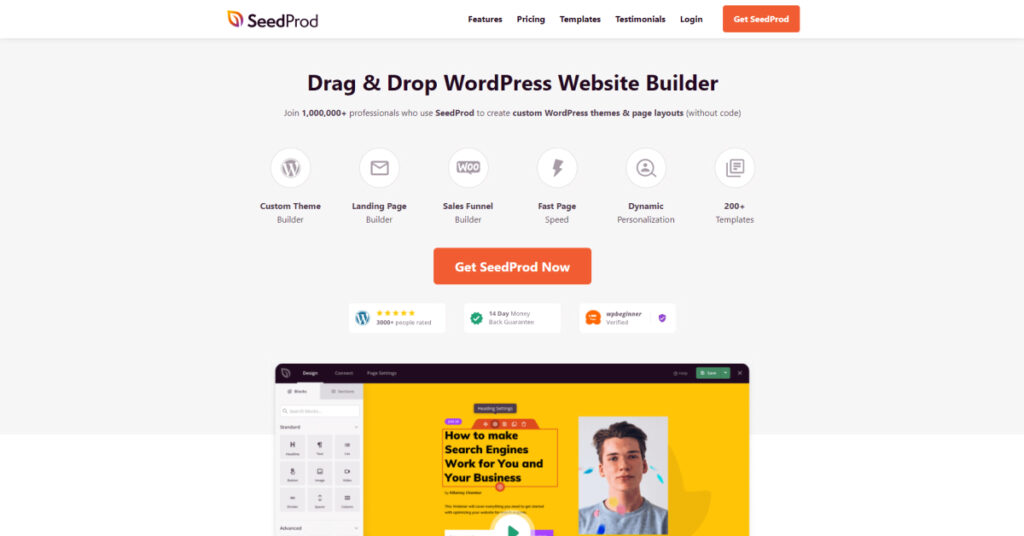 SeedProd is a highly popular WordPress theme builder that is widely used on over a million websites. It boasts an easy-to-use drag-and-drop interface, making it a breeze to create stunning websites exactly the way you envision them.
In addition to being a powerful theme builder, SeedProd also serves as a page builder plugin. With its Pro version, you can harness the drag-and-drop page builder functionality to create a custom WordPress theme without any coding required. You can effortlessly design templates for headers, footers, single posts, single pages, archives, sidebars, and more.
One of SeedProd's standout features is its emphasis on website speed. Unlike other theme builders that can slow down your site, SeedProd prioritizes speed, enabling your pages to load quickly and rank higher in search engine optimization (SEO).
Another fantastic aspect of SeedProd's theme builder is its theme-agnostic nature. It doesn't rely on your existing WordPress theme for style or functionality, granting you complete freedom and control over your website's design. Additionally, it seamlessly integrates with premium third-party extensions like MailChimp, Active Campaign, Constant Contact, and more.
Best Features of SeedProd
Drag-and-drop visual editor
150+ beautiful templates
Conditional template display
Coming soon and maintenance mode
Premade and customizable themes
Unlimited theme templates
Template tags for dynamic content
Built-in custom 404 and WordPress login pages
Woocommerce support for checkouts and shopping carts
Direct integration with popular email marketing services
Domain mapping for landing pages
Global style settings
100% responsive design
Pricing of SeedProd
SeedProd provides a free plugin with bundled templates. However, by upgrading to the paid version of SeedProd, you can unlock the full potential of the theme builder.
Pro: $199.50 per year
Elite: $239.60 per year
5. Beaver Builder
Beaver Builder is a widely recognized WordPress page builder that has gained a strong reputation for its clean code and stability. Similar to other builders, it offers a user-friendly drag-and-drop interface that simplifies the design process.
With the official Beaver Themer extension, you can enhance the core Beaver Builder plugin by adding comprehensive theme-building capabilities. This means you have the power to design various parts of your WordPress theme, including headers, footers, archives, and singles.
One of the unique yet powerful features of Beaver Themer is its field connections functionality, which allows you to dynamically insert data from your WordPress site or custom fields into your designs. You also have access to conditional display rules, granting you control over where and when each template should be applied.
If you run a WooCommerce store, it includes its own set of dedicated modules that enable you to customize your shop and single product pages. For even greater flexibility, you can explore third-party extensions specifically built for Beaver Builder. Overall, Beaver Builder strikes a balance between the user-friendliness of Elementor and the clean code output of Oxygen Builder.
Best Features of Beaver Builder
Visual drag-and-drop builder
30 design modules
Responsive controls
Support for custom fields
Conditional template display
Dynamic data capabilities
Unlimited template creation
Bootstrap framework integration
Dynamic content settings
Beaver Themer extension for comprehensive theme-building support
Clean and efficient code output
WooCommerce compatibility with dedicated modules
Extensive library of pre-built templates
Pricing of Beaver Builder
To utilize Beaver Builder as a theme builder, you will require the premium versions that include the theme builder extension,
Pro: $199 per year
Agency: $399 per year
Ultimate: $546 per year
6. Brizy
Brizy is a relatively new player in the drag-and-drop page builder scene, similar to Elementor but with a focus on inline editing. With Brizy Pro, you can make changes directly on the page without constantly navigating to the sidebar, saving you time and effort.
In addition to its inline editing capabilities, Brizy Pro offers a powerful theme builder that allows you to customize every aspect of your WordPress website. Whether it's creating dynamic templates for single and archive pages, designing 404 error pages, or having complete control over headers, footers, and sidebars, Brizy Pro empowers you to shape your website exactly the way you envision it.
Despite being relatively new to the scene, Brizy Pro has quickly garnered a devoted following. The developers have consistently rolled out new features, including theme-building functionality. The visual, drag-and-drop editor in Brizy Pro sets it apart by keeping as many settings as possible "inline," resulting in a smooth and speedy design experience.
Additionally, the integrated Brizy Sync tool simplifies the process of reusing templates and blocks across multiple sites, eliminating the need for manual import and export. However, it's important to note that the current theme-building functionality in Brizy is limited to header and footer design, making it suitable for simpler websites, though it may fall short of extensive blog customization.
Best Features of Brizy
User-friendly visual drag-and-drop feature.
Responsive controls.
Generate unlimited templates to suit various needs.
Conditional template display
Unique mega menu builder feature.
Incorporate dynamic content seamlessly by integrating with ACF, Toolset, Pods, and Meta Box.
Integrate with WooCommerce for seamless e-commerce functionality.
Create visually appealing popups using the built-in popup builder.
Access the integrated Brizy Cloud service for enhanced performance and convenience.
Beautifully designed templates.
Brizy Cloud membership for additional perks and features.
Connect seamlessly with various marketing tools for efficient promotional activities.
Pricing of Brizy
Although a free version of Brizy is available on WordPress.org, access to the theme-building features requires Brizy Pro.
Personal: $60 per year
Freelancer: $108 per year
Agency: $192 per year
White Label: $300 per year
7. Themify Theme Builder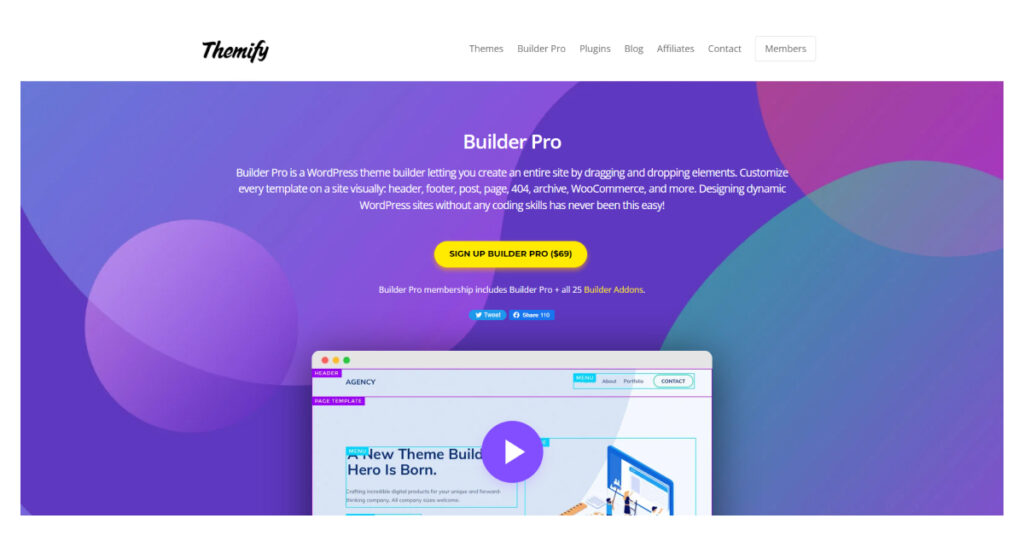 Themify Builder Pro is a comprehensive WordPress theme solution offered by Themify. With its intuitive drag-and-drop functionality, customization of various templates becomes effortless. You have the flexibility to personalize headers, footers, posts, pages, archives, 404 pages, and WooCommerce templates.
One notable feature of Themify Builder Pro is its capability to fetch post meta and custom fields from your WordPress database. This allows you to incorporate dynamic content anywhere within your templates, resulting in visually appealing and personalized websites.
Catering to businesses of all sizes, Themify Builder Pro offers an intuitive interface and efficient tools for building modern websites. Additionally, you can benefit from features such as instant previewing of design changes, undo/redo options, and the ability to copy page rows or duplicate modules, streamlining the development process.
Another advantage of Themify Builder Pro is its seamless integration. It can be used with any theme from the Themify collection, providing both back-end and front-end editing options. The theme builder offers pre-built layouts for quick prototyping and also facilitates the importation of custom layouts for further customization.
Best Features of Themify Builder Pro
Drag-and-drop modules
40 readymade landing pages
Easily expand the functionality with extendable addons
Access over 60 animation blocks
Seamless integration with WooCommerce, including dedicated templates
Intuitive drag-and-drop visual editor for easy customization
Effortlessly create all theme templates with ease
Customize WooCommerce templates to suit your specific needs
Set display conditions for templates based on your requirements
Enjoy support for dynamic content integration
Benefit from global style options for consistent design across your website
Pricing of Themify Builder Pro
Themify WordPress builder is free however to start building a custom theme you need to sign up for Builder Pro membership which includes Builder Pro + all 25 Builder Addons.
8. Oxygen Builder
Oxygen Builder is the most flexible visual builder for developers that stands out for its clean code and excellent performance. It excels in creating lightweight websites, making it a top choice for those who prioritize speed and code quality.
The best part of Oxygen Builder is its ability to handle custom content sites effortlessly. It allows you to easily incorporate dynamic content from native WordPress information or custom fields, such as those created with Advanced Custom Fields. Oxygen Builder takes it a step further by offering features like repeaters, loops, and conditional logic, which enable you to manipulate and display dynamic data more effectively.
Another notable feature of Oxygen Builder is its integration with the block editor (Gutenberg). This integration allows you to visually create custom blocks using Oxygen Builder's drag-and-drop interface. This is especially useful when building sites for clients, as they can easily utilize these custom blocks while working in the block editor.
However, Oxygen Builder may not be the most beginner-friendly option for casual users. While it does provide a visual, drag-and-drop editor, it's technical nature and steep learning curve make it more suitable for developers or advanced users who are willing to invest the time and effort to master the builder.
Best Features of Oxygen Builder
User-friendly interface with a visual, drag-and-drop builder
Responsive controls
Utilizes a Flexbox layout engine for the effortless creation of horizontal and vertical layouts
Clean and optimized code compared to other similar tools
Supports dynamic content, including the use of custom fields
Ability to include dynamic content within repeaters or loops
Conditional logic feature for dynamic content
Drag-and-drop Gutenberg block builder for easy customization
Seamless integration with WooCommerce for e-commerce functionality.
Pricing of Oxygen Builder
Basic: $129 one-time payment. (Access to the core Oxygen Builder builder)
WooCommerce: $149 one-time payment. (Provide support for WooCommerce for your eCommerce stores)
Ultimate: $179 one-time payment. (Support for the Gutenberg block builder)
9. Visual Composer Theme Builder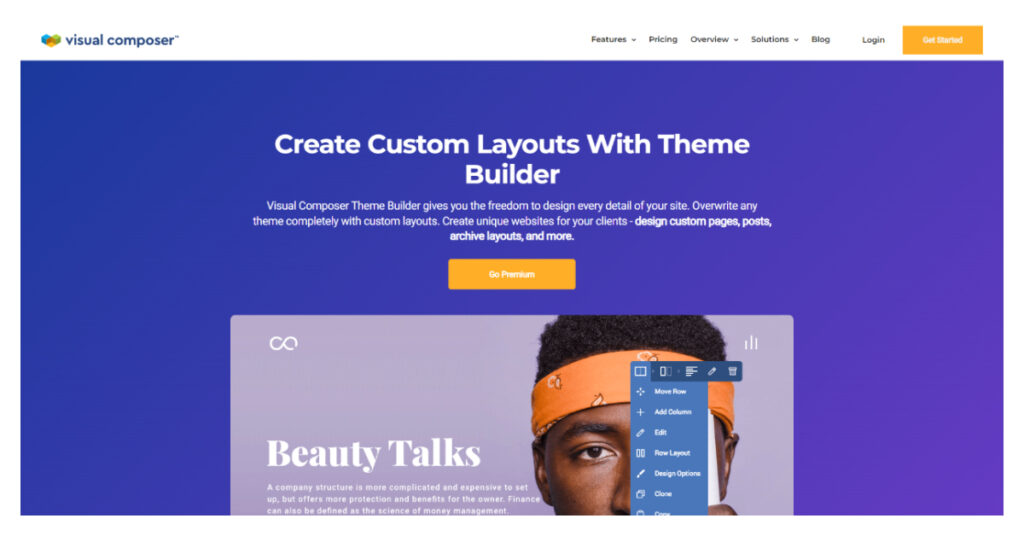 Visual Composer is an intuitive and efficient WordPress website editor that empowers users to create customized website layouts without the need for coding expertise. With its exceptional theme builder feature, you can completely transform any WordPress theme by implementing personalized layouts.
Whether you are constructing a page, post, or archive layout, Visual Composer's visual layout builder provides unparalleled flexibility. It seamlessly integrates with your existing theme or enables you to commence from scratch with a brand-new design.
Moreover, Visual Composer extends its versatility to landing pages, allowing you to modify logos, menus, headers, footers, and sidebars with unmatched precision. This comprehensive feature set prompted the team to refer to it as a website builder, surpassing the scope of a mere page builder.
Visual Composer seamlessly integrates with all WordPress themes, ensuring that you can effortlessly switch themes without sacrificing the custom layouts you have meticulously crafted with the plugin. Also, it boasts compatibility with the new Gutenberg editor, Google Fonts, and Yoast SEO, enhancing its adaptability and functionality.
Best Features of Visual Composer
Drag and drop visual editor
Over 150 attractive templates to choose from
Conditional templates display settings
Coming soon and maintenance mode features
Integration with premium services
Multiple theme parts creation capability
Support for dynamic content
Conditional and global layout options
Compatible with the WordPress block editor
Ability to pull dynamic content from custom fields
Block templates for easy customization
Pricing of Visual Composer
In order to utilize the theme-building features, the premium version of Visual Composer is required.
Single: $49 per year for 1 site
Plus: $99 per year for 5 sites
Accelerate: $149 per year for 20 sites
Agency: $349 per year for 1000 sites
10. JetThemeCore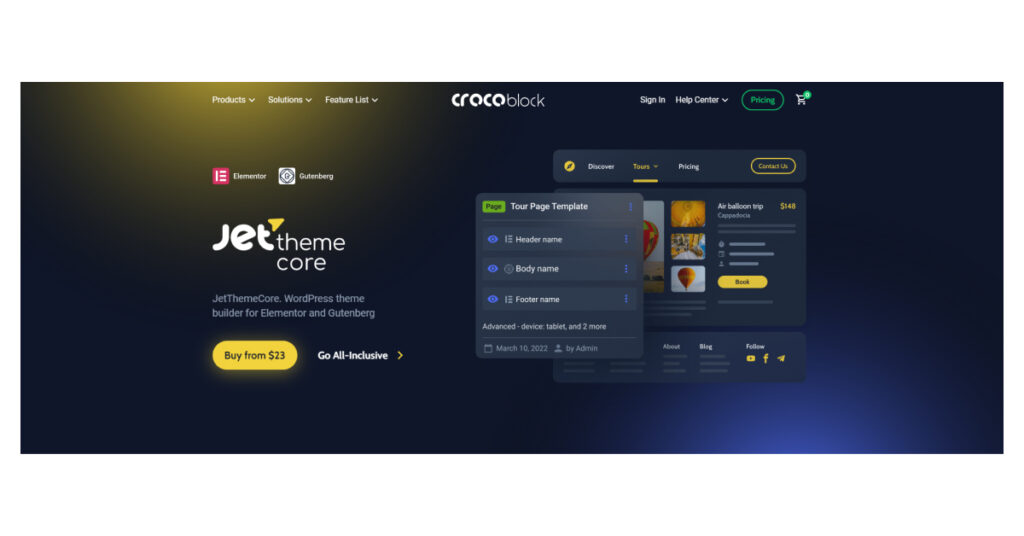 JetThemeCore is a versatile WordPress theme builder for Elementor and Gutenberg a part of the JetPlugin suite. It offers a wide range of features, including theme builder capabilities similar to Elementor Pro. The plugin provides an extensive library of ready-to-use templates for essential pages like single pages, archive pages, 404 pages, and taxonomy archives.
You can customize template parts by enabling or disabling specific sections and defining template conditions. The plugin utilizes the native WordPress editor, simplifying the process of template creation. Advanced condition types are available for further customization options.
JetThemeCore goes beyond basic templates by integrating with the JetEngine dynamic content plugin. This integration enables the use of custom post types, content types, dynamic listings, and data storage features. For instance, you can easily construct a single page for a tour booking website, incorporating dynamic tags and fields to display relevant tour information.
Additionally, JetThemeCore offers a Template Library where the templates you create for the header, footer, or body can be conveniently saved. With its range of features and seamless integration with other plugins, JetThemeCore is a valuable tool for developers looking to build dynamic and customizable WordPress websites.
Best Features of JetThemeCore
A comprehensive collection of templates
Advanced features for building themes
Customizable template conditions
Seamless integration with JetEngine
Utilization of a native WordPress editor
Dynamic content support
Versatile header and footer customization
Efficient template library management
Compatibility with elementor
User-friendly installation process
Responsive design control options
Optimized and clean code generation
Pricing of JetThemeCore
Custom (Only JetThemeCore): $23 per year
All-Inclusive: $199 per year
Freelance Lifetime: $750 per year
Lifetime: $999 per year
Choosing the Best WordPress Theme Builder for Your Site
So, which one is the best WordPress theme builder for you?
Selecting the best WordPress theme builder depends on your specific needs, skill level, and budget. Each tool on the list has its pros and cons, making it difficult to recommend a single option for everyone.
However, based on personal experience, here are the top theme builders and their standout features:
Overall Best Theme Builder for "Most" People: Elementor Pro is considered the top choice for most users.
Best Theme Builder for Advanced Users or Custom Content Sites: Oxygen Builder is highly recommended for advanced users and developers.
Best Theme Builder for Newbies: Thrive Theme Builder is designed for beginners.
Powerful Visual Builder with Extensive Template Library: Divi Theme Builder stands out with its visual builder and wide range of pre-designed templates.
Flexible Drag-and-Drop Builder with Custom Fields Support: Beaver Builder offers a visual drag-and-drop builder that ensures flexibility and ease of use.
Most Affordable: Brizy provides convenient inline editing and affordable option among all.
Intuitive Drag-and-Drop Functionality for Businesses: Themify Builder Pro is an intuitive theme builder that seamlessly integrates with WooCommerce.
Professional Coming Soon Pages and Polished Website Launch: SeedProd specializes in creating professional coming soon and login pages.
Extensive Template Collection with Gutenberg Compatibility: Visual Composer Theme Builder offers a drag-and-drop editor and an extensive template collection.
Comprehensive Templates with Dynamic Content Support: JetThemeCore offers comprehensive templates and seamless integration with JetEngine for dynamic content.
Remember to consider your specific requirements, technical expertise, and financial constraints when choosing the best WordPress theme builder for your needs. Still have any questions or any doubts just ask away in the comment section below.
FURTHER READING